The jubilation was infectious. 1,600 people had just received a new lease of life flowing from potable water powered by a mechanised device provided by Sahara Foundation to Adum-Kwanwoma Town in Kumasi, Ghana.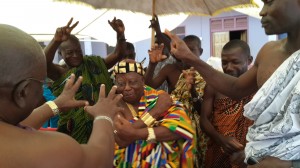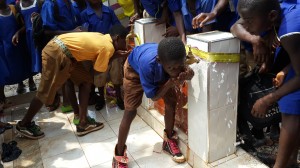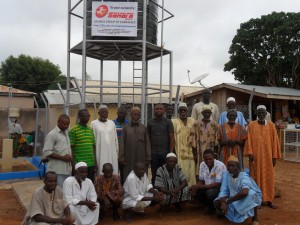 The children sang, the women danced and the chief, Nana Kofi Agyei IV, regaled his people with royal dance-steps. They had every reason to celebrate: access to clean water had hitherto been mission impossible. Just one act of sustainable intervention has birthed a future devoid of disease and thirst.
Bright-eyed Favour Okwuosa will be the next big thing on the international fashion runway where her designs will feature in the near-future. Her Alma Mater? The Sahara Foundation-mid-wifed vocational centre in Lagos, Nigeria!
Several indigenes of Katiola Village and Plateau Town in Cote d'Ivoire have been empowered to envision a brighter future, following successful corrective eye-surgeries done under the aegis of Sahara Foundation-sponsored initiatives.
Cataracts are the single most common cause of blindness in developing countries. Uneducated members of society are more likely to be blind than those who are educated.
In 2014, Sahara Foundation in partnership with Unite for Sight, Ghana, carried out cataract surgeries for 50 individuals in the Ashanti and Upper West Regions of Ghana. The beneficiaries included traders, farmers and retirees. Talk about transforming lives: the beauty of having a platform to nurse one's dreams to fruition, and kick-starting the dreams of others. These testimonials have characterised the corporate responsibility interventions of the Sahara Group. Sahara is a fast-growing energy and infrastructure conglomerate with roots in Nigeria and subsidiaries in Africa and other parts of the world.
Dr. Seth Wanye runs Friends Eye Clinic near Kumasi, Ghana, one of the beneficiary organisations of Sahara Foundation. "I learned from officials of the Sahara Foundation that reaching out to the visually impaired is a key intervention activity in countries where the Sahara Group operates. The programme targets indigent rural communities where people often resort to the use of traditional treatment techniques which tend to further damage their eyes. Some people become permanently blind in the process while others are lucky enough to get their sight restored after simple surgeries, which are often too expensive for them to afford. Sahara reached out to us to support such people in our area."
The Sahara Group adopted the model of a fully-fledged Personal Corporate Social Responsibility vehicle, christened Sahara Foundation. The Sahara Foundation strategically applies itself to proffering sustainable solutions for causes in community development, education and capacity building, health care and the environment.
In the bid to promote capacity building and education, the foundation aims at achieving an increase in school enrolment rates; improved nutritional status of the average schoolchild; improved performance of the schoolchild; and alleviation of short-term hunger. This increases attention- and concentration-span; motivation for children to attend school; and motivation for parents to enrol their children in school so as to raise an army of educated future leaders.
Sahara Foundation through its initiatives and partnerships seeks the development of young minds to foster a collaborative/team spirit amongst the youth, improve their problem solving techniques, recognise natural talent and place the power to control their future in their own hands. This serves as a solid foundation for driving experiential learning opportunities that focus on the development and nurturing of entrepreneurial skills amongst the youth.
Another key activity of the Sahara Foundation is its interventions in the health sector, where it seeks to enhance awareness around health matters to reduce production losses due to workers ill-health. This also increases opportunities for children to be in school, better learning and optional use of resources that would have been spent on treating illness through impactful activities against such conditions.
The Foundation has carried out eye-care programmes; Cancer-awareness screening and treatment campaigns; Provision of Care for People Living with Physical and Mental Disabilities; Upgrade of Medical/Laboratory Facilities; and water sanitisation across the various national markets where it operates.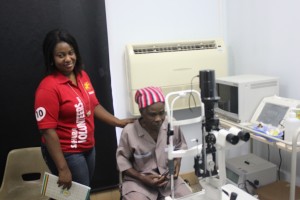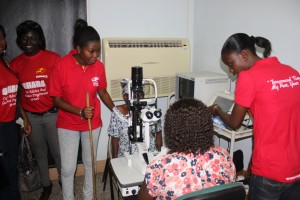 Sahara Foundation's approach to sustainable community relations, pursues an efficient and cost-effective sustainable development model that involves full acceptance and participation of host communities. This is achieved through projects that enhance the well-being of its work environments and host community; sponsorship of youth-led developmental initiatives in order to encourage innovation, creativity, leadership; as well as skill advancement through recruitment of the semi-skilled and unskilled labour from host communities.
The foundation also supports projects that provide sustainable solutions for enhancing the standard of living in host communities. A remarkable example is the recent "Sahara Light-Up Nigeria challenge", which sought to inspire the creation of alternative energy sources to tackle the challenge posed by inadequate power supply in Nigeria.
Several universities in Nigeria, working under the Enactus platform, came up with various alternative energy inventions. The winning entry, a wind-turbine developed by students of Kaduna Polytechnic, is designed to generate power by leveraging on windmill technology to provide electricity for a community that has never experienced power supply. The items used in creating the technology are environmentally-friendly and bio-degradable. This invention, among others that were showcased during the project, portends a promising future for the power sector in Nigeria.
From scores of projects on preventable blindness, corrective cleft-lip surgery to minor eye surgeries, the voluntary involvement of staff within the Sahara Group on several initiatives is perhaps the most important aspect of the Sahara Foundation's operations. This culture of giving back and aiming to deliver sustainable impact is entrenched in the group's staff, who continue to contribute their time and talent to several initiatives.
Experts say this level of intervention in critical development areas is needed across the African continent to provide platforms for the less privileged to actualise their aspirations, whilst also promoting economic empowerment for individuals and communities.
Dr. Wanye adds: "I am inclined to recommend the involvement of more African businesses in sustainable corporate social responsibility initiatives in ways akin to what Sahara Foundation is doing. Nothing captures the beauty of African neighborliness more than one reaching out and giving others a platform to pursue and live their dreams".
Culled from The Business and Financial Times